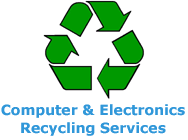 Free Computer & Electronics Recycling Services
Kingwood Computer, effective immediately the computer professionals for 20 years at Kingwood Computer are accepting obsolete, used computer systems, printers, UPS batteries, ink cartridges and toner cartridges for environmentally responsible and secure recycling.
Beginning immediately, Kingwood Computer will help our communities solve the very difficult question regarding used and obsolete computer equipment; How do we responsibly and securely dispose of used computer systems, monitors, printers and related electronic waste?
Kingwood Computer has the answer and is totally committed to making sure obsolete computers and equipment are responsibly recycled according to ceno landfill and no toxic export policies. They can also ensure that sensitive data on your hard disk is protected by DOD grade data destruction techniques and tools.
Now Kingwood Computer is your go to local resource for technology recycling solutions. They have teamed up with a professional, well established recycling business partner to recycle or dispose of computers, computer related electronics, networking components from small and medium businesses in addition to the family PC.
This includes (but is not limited to):
desktop computers
laptops
servers
CISCO and networking equipment
phone systems
monitors
plasma and LCD displays
storage arrays
test equipment
most medical equipment
mainframes
broadcast equipment and cameras
PDAs
cell phones
SUN workstations and servers
IBM workstations, servers, RISC
and most other electronics
Recycling is FREE except for CRT Monitors which are $10.00 each, Monday through Friday 8AM - 6PM, Saturday 9AM - 1PM. Scheduled pick ups at your home or business, by appointment available at a small fee.
Kingwood Computer is located at 2610 Chestnut Ridge Kingwood, Texas 77339 or call them at 281-359-6255.